Morph has been on holiday in Wales for two weeks with Lisa and her family and friends, hence the delay in an up-date on the boy.
Lisa's report:
Bless him the lad has had a great time. He has continued to gain weight although he is still thin and the weight gain is slowing down, he is also now starting to build a bit of muscle on his spindly legs. He has also started to relax enough now to allow us to see his *cough* other sides. There is no denying he is an entire male as his dominance is starting to show, he can be a little bit pushy with the other males and is now less tolerant of other dogs behaviour and had a couple of punch ups with Bod who is just as bad and a pop at Edgar for no reason.
There is also a very vulnerable scared lad lurking and when we first got on holiday he showed us how terrified he is of being left and you not returning which again re inforces to me what I believe and he was locked in somewhere and left. The first few times we left him he got really really upset but seemed to settle towards the end, I just hope its helped him realise that we do come back. It also helped as he was so tired.
Still its onwards and upwards and he is in a much better place physically and mentally than when he first arrived.
So here are the handsome lads holiday piccies.......
Running on the beach with his dad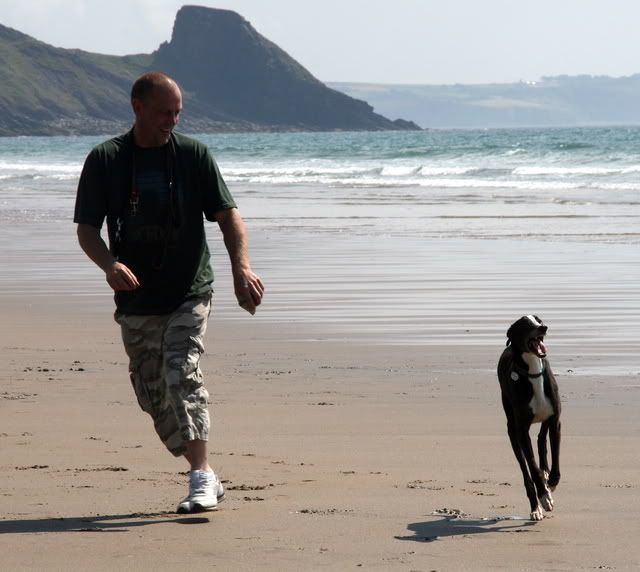 Sniffing the sea air

Party Princess at a birthday party!

Running with his pack!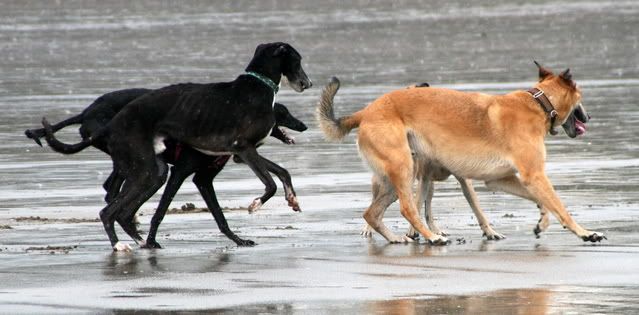 Such a difference isn't it?
If you missed the earlier Morph stories, you can find them
Here
,
Here
,
and
here