I was tired yesterday. Hence the slightly down in the dumps blog yesterday. But the boss said I could take a
POETS day
so I headed home at 4pm, planning on getting my head down for an hour. But the sun was still shining so Himself and I took The Lurchers, Snowy and Flo, our neighbours labrador who is staying with us, out for a lovely walk. I took my camera and although there wasn't really enough light to catch them running, I did manage to take some snaps of the blossom which is looking so lovely at the moment.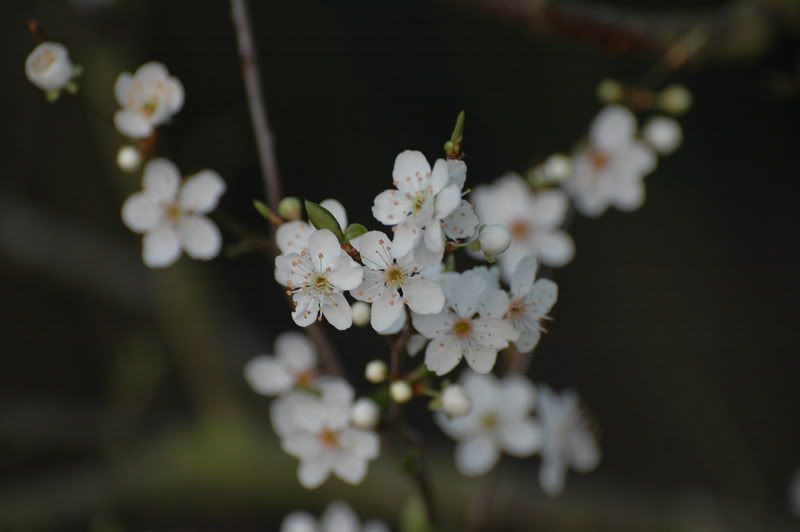 So, with spirits somewhat lifted, I decided to forego the snooze and get an early dinner and early night instead. Lisa at Greyhound Gap called for a chat and to tell me one of our dogs, Cara, had gone off to her new home not far from me.
20 minutes later, I'm just serving up dinner when Lisa calls again. "THEY'VE LOST CARA!". They'd stopped to let her out just before they got home and Cara had jumped out of the back of the car in a split second.
Dinner forgotten and Himself left to fend for himself, I got my butt into gear and phoned local police, dog wardens and Battersea Dogs Home. Half an hour later found me and my friend, and fellow volunteer, Nettie, on the road heading into London to help with the search. A newly rescued dog, in a strange area where the predominant dog will be a Staffie taught to fight was not a comforting thought. Forunately no sooner had we arrived than we got a call to say Cara had been found safe and well. Having Saluki in her, she'd just taken herself off for an explore and came back once she'd got bored with that and wanted something to eat!
This morning was flyball. It was a disaster. We arrived nice and early to find the organisers and several participants busy setting everything up, whilst letting their dogs run riot off lead with no thought for other people who were trying to keep their dogs under control. When a young German Shepherd kept throwing himself at Lurcher No.2 I decided enough was enough and left.
Maybe it's because I'm used to sighthound gatherings where the dogs are on lead and under control - because many will be ex-racing greyhounds - I found the attitude rude and discourteous. I have no time for people who are too arrogant to consider other dogs just because their dog is just "having fun".