Our lovely hostess this week is
Hula Girl
and this is our assignment:
I love prying information out of people...and I'm really nosey….ridiculously nosey. After much thought and consideration I've come up with the following topic….clothing…specifically clothing you can't get rid of. We all have at least one or two items of clothing that we can't part with, even if we can't or don't wear them. I want to know about yours. Show us if you have pictures or describe it in detail. Model it for us if you dare. Nothing naughty please-we don't want to see your backside (or your front side) in that thong you foolishly bought in Cancun on vacation. Is it your old FFA jacket from high school (which my husband has)? A Grateful Dead concert t-shirt from 1978? A shirt from an old lover or that size *&! pair of jeans you hope you get into again one day? Or maybe the really large pair of jeans you wore before you lost 100 pounds or your grandma's vintage wedding dress. Dig around in your closets and find something you want to share with us Monday. I can't wait to see and hear about your choices.
18 months ago, this Fun Monday assignment would have filled a scrap book. Before we moved, I had a lot of storage space and I kept everything and boy where there some classic pieces of clothing that I couldn't part with. There was the metallic purple flouncy evening dress, the black and white taffeta ball gown and numerous other clothes from the days I worked in the city. Who knows when I might have needed that suit again? I had some lovely designer cast-offs from a friend that never ever fitted me properly but I just couldn't get rid of them.
And then we moved and my storage space shrunk to a quarter of what I had been used to and something had to give. I was so ruthless and if I hadn't worn it in a year, it went. So the items I have now are not those that have been with me for any length of time but are fairly recent purchases. It's not that I'm hanging on to them for any sentimental reason, it's that I bought them when I hit an all time low with my weight last year. Weight that I managed to put back on again last Christmas. So I have a yo-yo wardrobe, one lot of clothes for when I am a size 12 (US10) and another set for when I am a size 10 (US 8).
But there were one or two exceptions that I wouldn't get rid of and this is one of them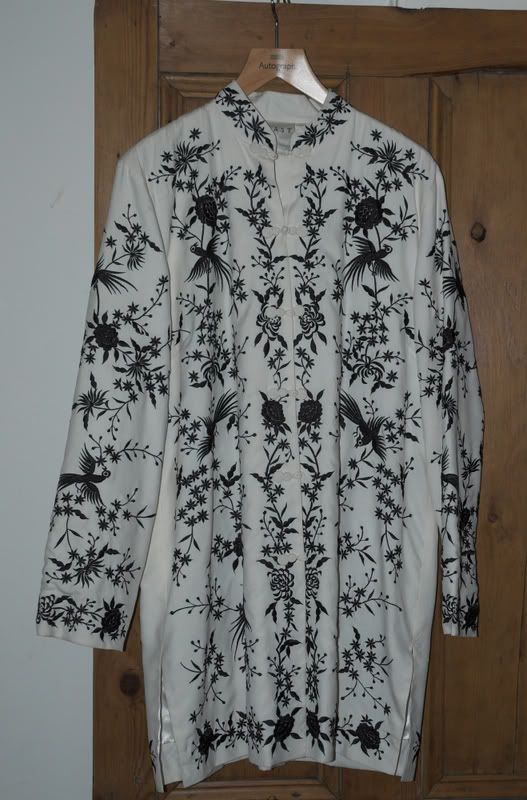 I bought this for a friend's wedding, I've lost track of how long ago it was but it must have been at least 7 or 8 years ago and I just love it. It's silk and has the most intricate embroidery on it. It was something which, left to my own devices, I would never have bought but said friend came with me and insisted it looked fantastic and she was right! I adore this jacket and I may only wear it once in a blue moon but I will always keep it.
Then there is a more recent purchase that another friend made me buy as she said it really suited me. There are two things about this top. One, it's pink and I really do not do pink. Second, it's flouncy and I really do not do flouncy either. But I bought it anyway because I can see what she means, it's just that it is so far out of my comfort zone that I'm really not sure I will ever wear it. I suspect it will become another of those long-term inhabitants that I can't quite bring myself to lose.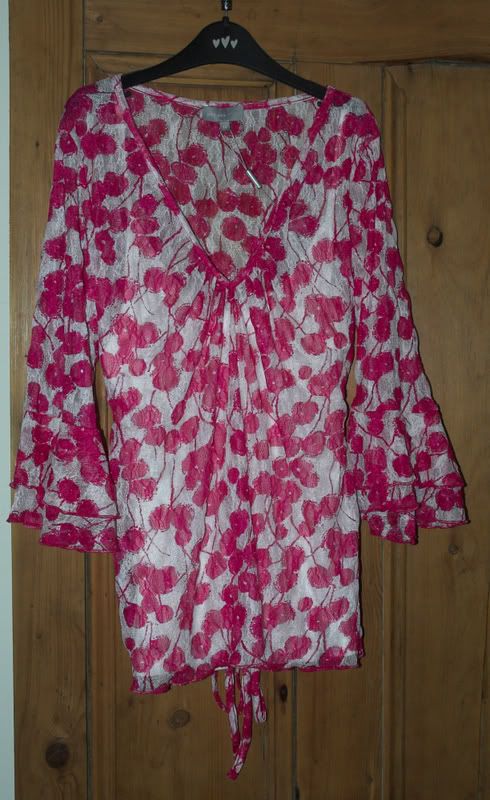 And then there's my slobbing about clothes. You know how once something is past it's best but it's so comfy that you just can't part with it? I have draws full of those. How many slobbing clothes does a girl need!? Some have stains that will never come out but I keep them to wear when I'm gardening or when I'm likely to get mucky because they couldn't possibly be worn in public.
I'm a lost cause, I really am.