That's what I can be heard to say at 6.30am every morning these days. The neighbours, who already think I'm one sandwich short of a picnic, now know I'm one sandwich short of a picnic. Yes, the hens have arrived.
They are in a bit of a sorry state having spent all of their short lives in a very small cage churning out eggs day in day out. But, within a few weeks, their feathers should have grown back and they will have fully adjusted to their new life.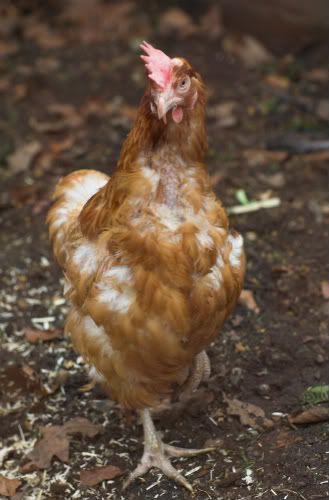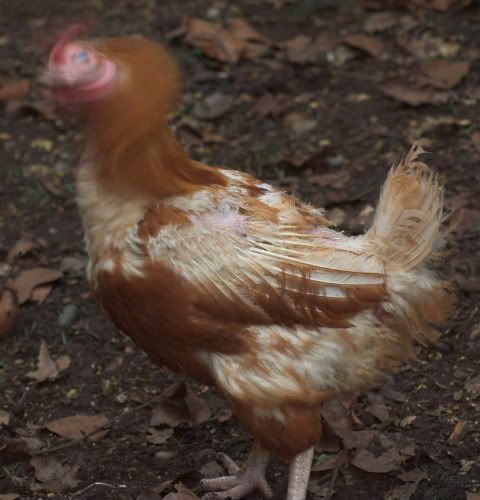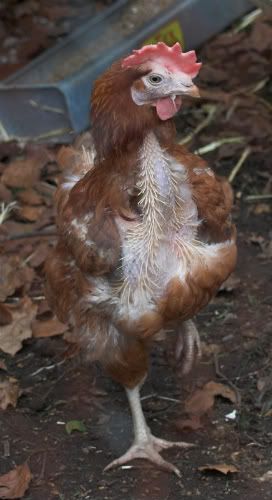 Twenty-four million chickens are currently battery farmed in Britain ensuring the low prices of eggs and chicken products. In small cages not large enough to turn around, thousands of chickens endure the monotony of life spent eating and laying. Whilst it is easy to lay the blame with the farmers, they are only supplying a demand for cheap eggs. If more people gave some thought to where their eggs came from, maybe this practice would stop.
These four, who I've yet to name so any suggestions would be appreciated, are amazing! One took to freedom with ease, with a second follwing closely behind. The third is well on her way and the fourth is still a little shy but is slowly getting the idea of freedom.
And The Lurchers? Lurcher No.1 has turned into a slavering beast screaming "let me at 'em". She usually has to be dragged outside for a pee but now she's first at the door. Lurcher No.2 is pretty laid back about the whole thing, he wanders up to the run, says hello and then mooches off to find something more interesting. Brodie just barks at them. And pinches the eggs that I thought I'd put safely out of reach!