...I want a hamster.
When our last dog, Cisco, passed away some eight years ago, Himself needed to wait for a while before we gave a home to another dog. Reluctantly, I agreed. But the house was way too quiet, depressingly so. So, for my birthday, Himself bought me a hamster.
Hercules by name and Hercules by nature. I have never seen so much personality bundled up into such a small package. He performed acrobatics in his cage and loved nothing better than an admiring audience to show off too.
Herc was followed by Bean.
This might sound a bit ridiculous to some of you but Bean could really communicate with me. He had originally been called Egg, but made it quite clear to me that he preferred Bean. Some time later he insisted on Puppy Bean. Lurcher No.1 had always been called Puppy Georgie and he wanted the "Puppy" bit too.
Bean was joined by Chaz who we adopted after someone local to me decided they wanted guinea pigs instead.
Bean passed away and Chaz was joined by Apollo Gemini Valentine. Yes I know, a big name for a little bundle. He couldn't decide between Apollo and Gemini so he got both and Valentine because he arrived on Valentine's Day.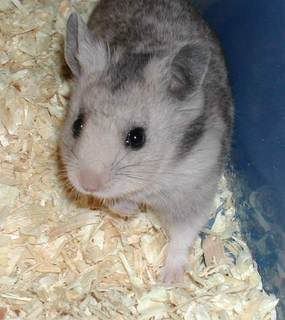 After losing Chaz (the downside of hamsters is that they don't live much more than 18 months/2 years), Apollo was joined by Lola who had belonged to the niece of a friend. Lola was a nippy little thing and the niece wanted something a little more cuddly!
We lost both Apollo and Lola within a few weeks of each other after moving to the cottage last year. Much as I would have loved another, we just didn't have the room and with fostering as well, I decided perhaps the time had come not to have any more hamsters.
Except someone has just posted some pictures of their hamster on a forum I frequent. And I'm starting to get hamster pangs again. Himself will have forty fits - we've no room for a hamster cage anywhere in our teeny-tiny cottage and the fact that they really come awake at night was always an annoyance for him.
But you know what? I might just find some room somewhere.