First of all, thank you to everyone for taking part in the first Fun Monday I have hosted. I was absolutely overwhelmed my the number of you that signed up and took part! The final number that signed up was 67! I know one or two weren't able to participate for various reasons and I hope everything is OK with all of you. I think I managed to get round to everyone but I will be doing the rounds again today just to be sure! I am completely blogged-out though, what a marathon blog session that was!
Links
I've up-dated the link to
Raising 3 Saints
so that should now take you to the right place but I'm having a problem with Electric Firefly's link. It's telling me the page doesn't exist so if Electric Firefly is reading this or if anyone can help out I would be grateful.
Updates
A few people left me some
questions
in my comments box so I'm going to try and answer them here....after commenting on 60 plus blogs yesterday I struggled to respond to all
those
that commented on mine and my apologies for that. I don't mean to be rude but I simply ran out of hours yesterday!
So...
Alison
and
Sayre
- The "I Didn't Know that About Wales" book...I did a search on Amazon and it is available on their
UK site
but doesn't seem to be available on the US site. If anyone would like me to order a copy and send it out to you I'd be more than happy to oblige.
Faye
- No, I didn't make the dream catcher - I'm not that clever!! I wish I could remember where I bought it but that is lost in the mists of time as well!
Southern Doll
- Crystals - it's different for each one but having them generally in the vicinity will work fine but some you need to hold or have in contact with your body. I've been known to have some of the smaller crystals tucked in my bra before now!
The Headboard!
A few people commented on our headboard so I thought I'd show it in all it's glory!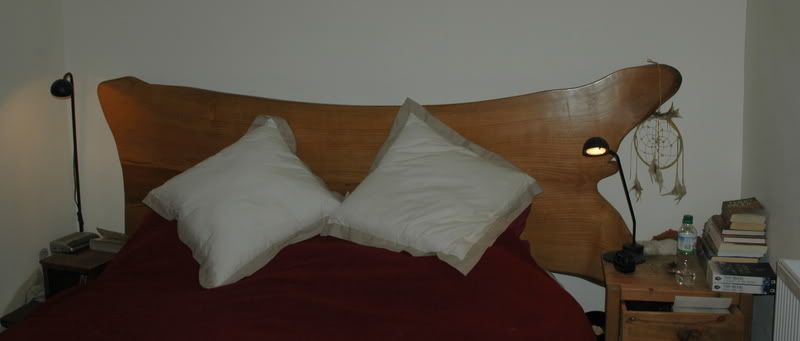 This is another item in our house that we "acquired". Many years ago, Himself and I were helping a friend of a friend to renovate his boat. It was an old wooden Naval
Pinnace
and she was beautiful. As thanks for the work we did we were allowed to take her up the River Thames to the
Henley Royal Regatta
every year...Oh we had some fun with her! But I digress. At the
same
boatyard where Julianne was moored was a carpenter's workshop. He had this piece of wood that was literally just a slice of a tree - now, our bed is a super-king size which is just short of 6ft wide so that gives you some idea of the size of the thing! The carpenter had planned to turn it into a table but it had warped and he was just going to throw it away as junk! Himself and I grabbed it and Himself polished it up and we
ummed
and
ahhed
about using it as a table ourselves but it was just too big, which was when we came up with the idea of using it as a headboard. The flat we used to live in had huge rooms and it worked really well and we did have a minor panic when we
moved
to the cottage as we really didn't think it would fit in the bedroom, but it does, with a little room to spare!
Next week's Fun Monday is being hosted by
Tiggerlane
at The Neophyte Blogger and
her assignment
is up for you to read.