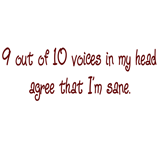 Hello Blogland!
Sorry it's been a bit quiet around here lately but I've had rather a lot on my plate and blogging has had to take a back seat for a while. Plus I had some stuff in my head that needed sorting out. Actually, it still does need sorting out, I just don't care quite so much these days. Not in a "don't care" don't care sort of way, just that I am trying to be a bit more chilled about things.
I have a habit of over-analysis sometimes. I have a pathological need to know why my thoughts and emotions about issues I might have take the direction they do and why I'm thinking what I'm thinking in the first place. It ends up seriously stressing me out.
I also get stressed out about things that I need to get done - and don't. I'm having a few problems with my thyroid medication at the moment which is leaving me with an over-whelming feeling of intertia.
So I am taking a step back from my thoughts and concerns, and I am trying to look at them more objectively. I am trying to be rational about them.
I have found a quiet place in my head that I retreat to when I find myself going into analysis mode. Somewhere that is blocked off from my more irrational feelings. Somewhere where I can see things a little more clearly.

And I do believe it's working. I am feeling much more comfortable in my skin and with my thoughts. I am much more at ease with myself and I find that the less stressed I am about things, the more I seem to get done.

Two birds one stone then. Always a bonus.